After the success of our first District session, we have booked more dates for your young people to join in with a Bricktopia Online session!
These carry on into the summer holidays and will have different themes to the first sessions, so your young people can join in as many times as they want!
We have also designated some specifically for Scouts and Explorers, that will be aimed at these older Sections.
Remember the District is funding these sessions, so they are completely free to your Sections!
Please share the dates with your Sections and get their parents to book a place through the Eventbrite link. There is a limit on the number of places, and it's first come first served, so encourage your young people to book early to avoid disappointment!
The extra dates are as follows:
Friday 10th July – 7pm

Monday 27th July – 7pm

Thursday 30th July – 7pm – Scouts & Explorers

Monday 3rd August – 7pm

Tuesday 11th August – 6pm

Thursday 13th August – 6pm

Wednesday 19th August – 7pm – Scouts & Explorers

Tuesday 25th August – 7pm

Wednesday 26th August – 6pm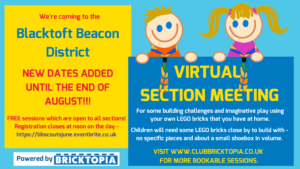 30 MINUTE WORKSHOPS FUNDED BY THE BLACKTOFT BEACON DISTRICT FOR THEIR BEAVERS, CUBS, SCOUTS & EXPLORERS … AND LEADERS CAN PLAY TOO!!
With the pandemic removing the opportunities for the Scouting sections to take place face-to-face, the Bricktopia Team (sister company to Bricks4Kidz) have arranged for some online sessions which utilise Zoom.
These are intended to be a family-friendly activity and aimed at children aged 6+.
Children will be expected to have some LEGO bricks close to hand but no specific pieces. The instructor will provide a theme for the session and then children can use their bricks to build with a chance to show their model to the others.
The session is run by an experienced instructor who has been a volunteer leader in UK Scouting for over 30 years.
The link to the Zoom workshop will be emailed to the registered email at 10:30am on the morning of the session.
Also, check out www.eBuilderClub.co.uk for offline LEGO brick activities.